STEP 1: What is your organization's vision?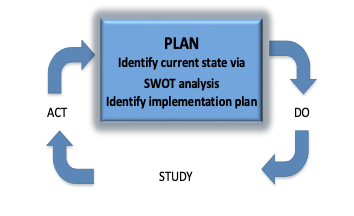 During the Plan stage of the PDSA cycle, your committee needs to learn about and understand your organization's vision and strategic priorities. The next step is to identify the 'current state' of your community's capability to assess, communicate and honor resident preferences. Do you have a process in place to focus on customer preferences? If so, what processes do you follow?
Step 2: What Is Your Current State Regarding Preference Fulfillment?
You can utilize the SWOT analysis questions below to identify your current state, as well as to anticipate the factors that might make it easy or challenging to improve preference fulfillment. By conducting simple interviews and some basic research, the committee can create a picture of your community's starting point and develop realistic plans for change.
SWOT ANALYSIS TEMPLATE: SAMPLE QUESTIONS TO CONSIDER
STRENGTHS
• What is our community's vision or strategic plan? What does it say about meeting customer preferences?

• Do we have a process in place that focuses on the customer and preferences? What is the process?

• What are our current strengths in meeting resident preferences?

• How do we assess resident preferences

• How do we document preferences?

• How do we integrate resident preferences into care plans? How do we know that occurs?

• How do we share resident preferences across care team members and shifts?
WEAKNESSES
Where are our weak points in:
• Asking residents about their preferences?

• Integrating preferences into care?

• Demonstrating that we fulfill preferences?

• What components are we not doing?

• Are we organized to implement a PELI PIP?
OPPORTUNITIES
• What are our opportunities or "bright spots"?

• What can we build on as we commit to improve?

• What have we done already?
THREATS
• What threats or barriers might stand in our way as we implement our vision of meeting resident preferences more effectively?
CHALLENGES
• What resources will we need in order to meet our vision?

• What work is needed on the budget? Are different resources needed or can we use existing resources in new ways?

• Will we face challenges in terms of regulation, budget, staffing, location or facilities? How will we address them?
Step 3: Develop A Plan
Based on results from the SWOT analysis, develop a plan, perhaps in outline form, that addresses: goals, structure, communications, training, staffing, reporting and commitment. The plan should consider these key questions:
What is the goal you are trying to accomplish? Ideally, set a timeline and specific milestones.
Which preferences and target population will you focus on? Starting with a simpler focus will give you practice — and is likely to yield success that you can build on in subsequent, more complex PIPs.
How do you envision the new process or practices? Who will test the new practice? How will you share individual preference information across care team members?
Which care team members and departments will be involved and what roles will they play?
How will you communicate the initiatives of the PIP throughout the community?
What training will be needed for interviewers and care team members? How will you determine whether the new approach is working? What data will you collect? Do you have commitment from committee members to do their "homework" in between meetings – as well as from top leadership to support the initiative?
For suggested approaches, see Appendix A – PELI PIP Planning Example and PELI tip sheet on How to Get Started.
STEP 4: DO – Implement the Plan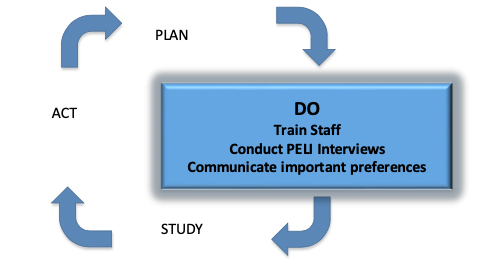 After you have your PIP plan in place, pilot test your change possibly on a small scale. As the pilot work unfolds, track problems that arise so you can analyze and solve them in Step 4. Your Do steps might include:
Step 5: Study – Select Tools And Measure Progress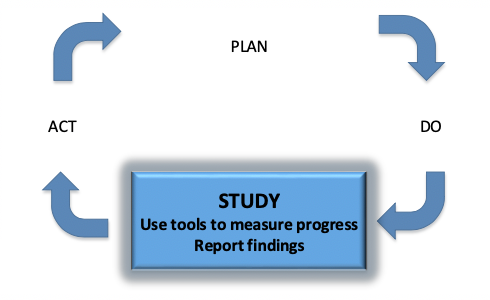 The purpose of the Study phase is to measure your organization's progress in using new practices to reach preference assessment and fulfillment goals. With data in hand, your team can reflect on whether your new processes need further refinement. Choose among the measurement approaches listed here or consider using another system that works well in your community:
Track how consistently PELI assessments occur in your community. You can also create an audit tool to collect more detailed data, such as whether care plans incorporate important preferences.
More advanced web-based tools measure residents' satisfaction with the way preferences are fulfilled. The online tools allow for benchmarking across your community or with other providers offering similar services. Two web-based tools to consider are:
Care Preference Assessment of Satisfaction (ComPASS) mobile responsive website https://pelicompass.com/.
Whichever measurement strategy you choose, your team should review the data and reflect on improvement processes that work successfully and those that require further attention.
When you uncover implementation problems that are difficult to fix, Root Cause Analysis (RCA) provides a practical way to explore the underlying reasons. The Centers for Medicare & Medicaid Services website provides free resources on Guidance for Performing Root Cause Analysis (RCA) with Performance Improvement Projects (PIPs) and QAPI at a Glance.
Report your committee's findings to stakeholders, including your community's QAPI committee, organizational leadership, surveyors, and resident and family councils. Be sure to celebrate and reward success to keep up momentum.
Step 6: Act – Ways to Sustain Improvements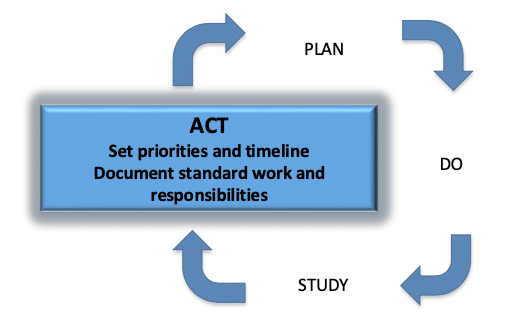 Maintaining focus and ensuring that new practices become part of everyday care can be challenging. After pilot testing a new process, your team may be tempted to rest on its laurels — but the Plan-Do-Study-Act cycle provides natural next steps to keep your improvements going and expanding. The Act phase focuses on two types of activity:
Assuring that successful new preference assessment and fulfillment practices become "the new normal" and a standard part of daily care.
Building on learning from your first pilot test by setting new priorities and a timetable for the next phase of preference-based care quality improvement.
From Pilot Test to Everyday Reality – Tips for Sustainability
To make sure that your new processes become routine throughout your community:
Document the new PELI practices that will become part of your community's standard operating procedures. Imagine that you are explaining exactly who will carry out each step as new residents join your community, and what each step consists of.
As simply and directly as possible, explain to staff, residents and families why it makes sense to adopt the practice change widely. Use findings from your pilot test to show the benefits of the change for the people you serve and the do-ability for staff.
As needed, add new responsibilities to job descriptions for staff coming on board and their supervisors. Consider changes in recruitment to assure that newly hired staff members have the qualities necessary for a culture of preference-based care.
Revise staff training programs to include new preference assessment or preference fulfillment practices.
Establish a method and timetable to monitor whether the desired steps are carried out. Decide whether supervisors will assume this responsibility. Review documentation in individual records and use audit trails for quality assurance.
Develop a plan to recognize team members who are preference ambassadors or champions. Consider an award ceremony perhaps organized according to a special theme.
The Act phase presents an opportunity to solidify new, pilot-tested practices that improve staff understanding of each person's preferences and reinforce for residents that their voices and their wishes are heard and respected. Your team can then turn to the next set of preference-based, person-centered care improvement priorities by starting the Plan, Do, Study, Act cycle anew.
Expanding Preference-Based Care Improvements – Scaling Up
Grow your community's commitment to preference-based care by identifying a new PELI PIP that will:
Extend new practices to another neighborhood, program or target population (e.g., people living with cognitive impairment) within your community.
Select another area in your organization that your residents have said need attention. For example, Ohio providers can review Department of Aging Nursing Home Resident Satisfaction Survey results (https://www.ltc.ohio.gov/) to identify opportunities for improvement, such as meals and dining. Six PELI items offer the basis for a PELI PIP on focused food preferences.
Assure that care plans always incorporate the individual's important preferences for daily life.
Benchmark resident satisfaction levels with other organizations measuring preference fulfillment.
Resources