We have learned about exciting ways that providers bring joy to residents by honoring their preferences. This guide highlights the As You Wish Program, developed by Terry Young, Director of Life Enrichment at Good Shepherd Home in Ashland, Ohio. Through creative teamwork and fundraising, the program creates treasured moments for residents by honoring special preferences that go beyond the everyday.
Communities can start their own programs by encouraging staff to listen carefully to discover residents' wishes. Team members can gain insight through PELI interviews and care planning meetings, as well as casual conversations with residents and families. Watch for and take note of topics that make a resident "light up" — these may point you toward wishes that could be fulfilled.
As You Wish Program
Terry Young was inspired to start As You Wish when she heard residents say, "Oh, I wish I could…" The program began a year ago, and since then, Good Shepherd Home has honored a wide range of special desires. Some were easy, such as:
Arranging lunch with the nursing home administrator
Driving local residents around favorite places in their hometown
Escorting a resident to her husband's grave to place flowers.
Other wishes took a little more effort, but Terry and her team worked hard to make them happen:
Helping a resident who was a former teacher visit a local school and read to children
Paying for dialysis so a resident could travel out of state to spend Christmas with her family
Taking a resident to an auto race where he met his favorite driver.
In the year since the program has been in action, Terry has seen the double benefit of As You Wish. Not only does the program have a direct positive impact on residents, it has opened the minds of staff members, who now realize how much residents are capable of.
As You Wish in Action
Date at Bob Evans
Mr. Barnhart's wish was to take his wife on a date. The couple went to Bob Evans for lunch, where Mr. Barnhart presented his date with a beautiful bouquet of flowers.
Visit to Air Force Base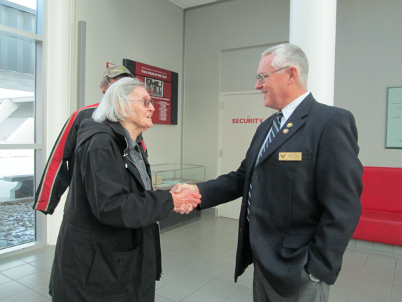 Dorothy had served in the Air Force and worked on airplanes. She wished to visit Wright Patterson Air Force Base in Dayton, OH. Dorothy's wish was granted, and she received a private tour of the base!
Lunch at Wendy's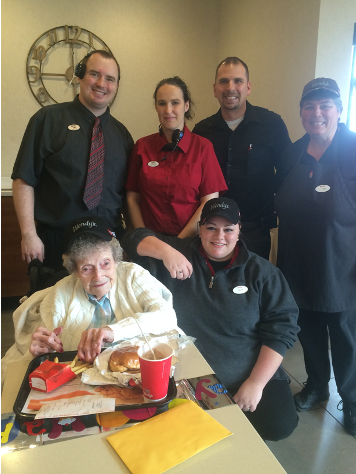 For 30 years, Kathryn went out to lunch, often to Wendy's, her favorite spot. When Kathryn turned 101 years old, her birthday wish was to have lunch at Wendy's. In the past, she had always ordered a hamburger, fries and a drink but she had wanted to try a frosty. On her birthday, she ordered a grilled chicken sandwich (something new to her), fries, soda pop and a frosty. She loved it! The Wendy's team presented Kathryn with company and team member pins, telling her she is now part of Wendy's team for life. Kathryn loved the attention at her favorite restaurant!
Lunch with Administrator
Kay wished to eat Chinese food for lunch with Joe, Good Shepherd's Administrator. She wanted to "pick his brain". Kay and Joe had a wonderful time together, laughing and sharing stories, and Kay felt carefree. She loves living at Good Shepherd and wanted to let Joe know the home is a blessing to her.
High School Football Game
Zane wished to attend a high-school football game so staff brought him to Hillsdale High School for a night game. His granddaughter Allie was by Zane's side the entire time. He said this was the best game he ever saw!
Fundraising Ideas
Money can be a barrier to fulfilling residents' wishes – yet Terry found several creative ways to raise funds for the As You Wish program. Among the ideas:
Host a craft bazaar or silent auction that showcases items residents have helped create. The annual Christmas bazaar is the largest fundraiser for Good Shepherd's As You Wish program. It features small gifts and delicious desserts. Residents help by filling cups with holiday candy, putting ribbons on items, and arranging the room. Items include: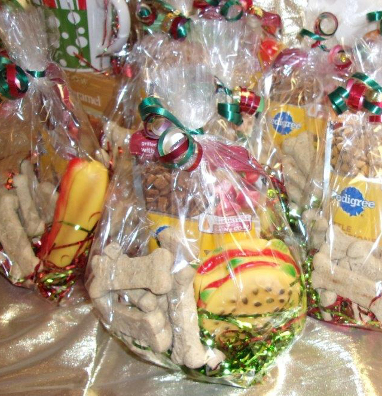 Host a fun special event, such as a hot dog luncheon or an ice cream sundae bar. Invite residents, families, and staff, and charge a small fee or ask for donations. Local businesses often can donate supplies, which helps to keep costs down. For example, one vendor provided chips for Good Shepherd and Terry found hot dogs and buns on sale. Good Shepherd's cost for the hot dog luncheon totaled $20, but the event brought in more than $400 for the As You Wish Program.
Involve the resident and/or family council in donating money or fundraising.
Now that the As You Wish Program is well known and well-loved at Good Shepherd Home, some residents leave money to the program when they pass away.
Tips to Get Started
Encourage staff to listen to residentsto learn about their individual wishes. Designate a contact person or team who will coordinate fulfilling wishes for the community.
Start with small wishes to build momentum. After fulfilling a resident's wish, find a way to share the story. Take pictures of the event and incorporate them into posters or newsletters. By doing so, you'll raise awareness of As You Wish – and you'll attract new participants to help the program grow.
For more information, contact us:
Email: PELI-Can@MiamiOH.edu
Website: www.PreferenceBasedLiving.com