How can you help community members feel connected and safe, and light up their days during the Covid outbreak?
A creative solution for many settings comes from Terry McQuillen, Director of Life Enrichment and Volunteer Coordinator with LSS The Good Shepherd in Ashland, Ohio, a nonprofit community with a 125-bed skilled nursing center, rehabilitation, ventilator treatment, memory care and respite services. McQuillen developed the tote concept in January and plans to extend it across the community.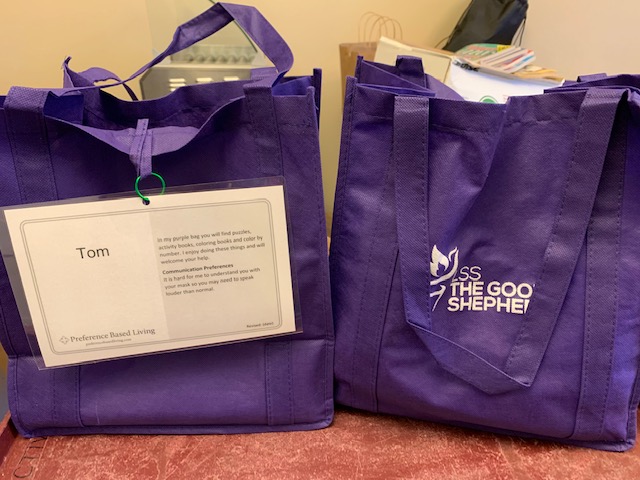 What's in Tote Bags?
Each purple tote contains a PAL Card that shows a community member's leisure and recreation preferences as well as a brief biography. This information makes it easy for staff members to get to know residents, anticipate what they enjoy, and engage them in satisfying daily activities and conversations — particularly helpful during Covid when group activities are restricted and social isolation is an ever present risk.
PAL Cards are based on preference interviews conducted by nursing assistants and activity staff, or information provided by family members or friends for residents who are unable to communicate. McQuillen creates the PAL Card and then staff help to fill each person's bag with personalized activities, such as:
Books, pens and stationery to read and write letters.
Activities such as coloring books or cross stitch that a community member enjoys.
Preferred music on CDs – "anything Elvis" for one resident. (Terry has found that CD players are easier to use than iPods, which can be challenging to keep charged.)
A doll for a memory care neighborhood resident who babysat her whole life to cuddle and rock.
Towels and washcloths for a woman on the memory floor who enjoys folding items.
Portability is key: residents can easily bring their own personalized activities bag along during the day, or even if they move to a new neighborhood. Tote bags can hang on a walker, wheelchair or doorknob. The larger community provides "amazing support" and contributes books and other items that help to fill the bags.
What's Next?
Nursing assistants and activity staff are gathering PAL Card information for current community members. And for new residents, they aim to conduct PAL Card interviews within 5 days and deliver purple bags within 10 days of move-in. McQuillen expects to continue this welcoming tradition post-Covid to enrich community members' lives.