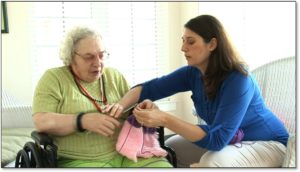 Welcome to the training entitled Building Relationships to Enhance Person-Centered Care through Emotion-Focused Care. A few years ago, after conducting a workshop on communication skills to improve the well-being of people with dementia, we realized that we had left out a critical piece – the caregivers' own well-being. We then developed this training to help caregivers take care of their own emotions, so that they would feel better able to manage the emotions and care of their care recipients.
This course is designed to increase your awareness of your own emotions and help you identify emotions in others. Strategies are then provided for how to manage those emotions – yours and your care recipients'. While the course is relevant to any person who is a caregiver, it specifically focuses on the context of providing care to an individual with dementia.
Of course, no single training will be able to solve all the problems in your job, or your life, especially when caring for an individual with dementia – your job is very challenging. Still, when your days are very difficult, even a small or a brief improvement can make a big difference.
This training will be interactive – your input will be the most important part. You are encouraged to interact with all elements of the training – brief quizzes, videos, and interactive content.
The content of this training is organized in 6 lessons. We will start with learning about what you already know (Lesson 1), then we will focus on taking care of your feelings first (Lesson 2 and Lesson 3). Lesson 4 and Lesson 5 will focus on taking care of your care recipients' feelings. We will then conclude by seeing what you have learned (Lesson 6).
You can work through this training at a pace that makes sense to you, but you will be required to complete the sessions in order. Each session of the training will have activities and videos for you to complete along the way. Please be sure to complete each task to maximize your learning. At the beginning, you will take a pre-test to see what you know before completing the training and at the end you will take a final quiz to see what you have learned. It will take you about 10 minutes to complete the pre-test and another 10 minutes to complete the post-test. Upon successful completion of the course, you will receive a certificate of completion.
So, let's get started.
Course Pre-test
In order to understand if the course helps increase your ability to recognize emotions and confidence in your caregiving abilities, we would like to ask you a few questions prior to starting.  We will ask you the same questions once you complete the course.  This course is 2 hours long.  It is broken out into 6 lessons (each 15-30 minutes) which can be completed at your own pace.  The course does not need to be completed in one sitting. Your information will not be shared with anyone outside of the research team.  When we download the pre- and post-test data from the website, we will remove any information, such as your name, that could identify you. Data will be saved on a secured server.

We will also ask you some questions that will allow us to report on the characteristics of the individuals who have completed the course, such as age, gender, and position. The pre- and post-test are voluntary and you can skip any question you do not want to answer. Your participation will help us learn if the training we have developed is beneficial to individuals who provide care to others.

You can contact the Principal Investigator of the Study, Dr. Katy Abbott, at (513) 529-0869 or abbottkm@miamioh.edu. If you have any questions or concerns about the rights of research subjects or the voluntariness of participation, you may contact the Research Ethics and Integrity Office at Miami University at either (513) 529-3600 or humansubjects@miamioh.edu

You do not have permission to view this form.